Description
***This item is a machine/mix bundle that includes enough free frozen yogurt, cups and spoons to serve your first 1,000 customers.***  See details at bottom.
Machine Details:
This model CS162 is innovative with a user-friendly Smart Touch Control screen and heavy duty reliable design. It is the first of its kind to implement an LCD touch screen control panel. The Aurel air tube configuration in the hopper and spring-mounted blades are similar to the Stoelting design. The popular clear face plate design creates a unique visual impact.   This soft-serve machine is ideal for any soft-serve product and is well suited for locations where there is a large demand in a short period since it is designed for high output to handle the peak-hour rush. The machine is equipped with (2) 3.8 liter freezing cylinders each with their own dedicated motor as well as (2) 10.4 liter independent mix hoppers. The machine is air cooled and gravity fed and can dispense two different flavors with the option to twist in the middle. With the ability to output 50 quarts an hour with a built-in status report on screen, the machine is built for heavy duty use in cafeterias and busy establishments.  It is ideal for use with a different type of mix in each side such as non-dairy sorbet in one side and no-sugar creamy frozen yogurt in the other side.
Ease of use is another integral aspect to this Aurel machine. It is shorter than its competitors which makes it much easier to monitor and clean.  The shape of the hoppers is also an innovation.  Both hoppers are narrower (5 3/8″ wide) and longer (19 7/8″) which help maintain a more even cooling of mix in the hopper. The Smart Touch LCD screen alerts the operator when the mix is running low and warns if safe temperatures were not maintained overnight. The computer controls add a level of convenience by automatically regulating refrigeration and helping ensure consistent product quality by controlling the product's temperature and viscosity levels. Similarly, the built-in standby feature maintains product temperature in the mix hoppers and freezing cylinders below 40 degrees Fahrenheit during long no-use periods. These features are designed to give you the highest quality product and make it easy to adjust machine settings depending on which type of product is being served.
Unlike other soft-serve machines that use traditional compressors with up to 500,000 lifetime cycles, the Aurel uses a scroll compressor with 70% fewer moving parts which results in 4x the lifetime cycle capacity and a 20% gain in efficiency.  Freezing the refrigerated mix to make a soft serve product is the most important process for a soft serve machine. For efficient freezing, the heat transfer properties between the refrigeration system and the freezing cylinder have to be just right. The CS162 is able to deliver the perfect amount of refrigerant required to freeze the product through a proprietary helical design and a patented, Vacuum Furnace Braising (VFB) technology. The VFB technology strengthens the bond between the refrigerant coils and the freezing cylinder walls creating the optimum freezing environment.
-(2) 3.8 liter independent freezing cylinders
-(2) 11 liter Quad Zone independent mix hoppers with induction agitators
-(2) 1 HP motors
-(1) 11,000 BTU/hr Emerson Energy-Star compressor that use R-404A refrigerant and Scroll Compressor Technology
-Air cooled
-Gravity Fed
-Counter Top model
Reliability and Use Rating:
Commercial Grade – Medium Duty – High Capacity
Shipping:
FREE!  All items on FroCup ship free within the L48 United States of America.  Your machine will be delivered in a secure crate via LTL common carrier semi truck.
Warranty:
All warranty and setup support will be handled by Aurel directly.  The warranty is 1 year on the compressors/hoppers/body and 1 year on non-wearable parts and labor.  Wearable parts such as blades and o-rings are not covered under warranty.
Installation:
This unit is available in single phase and requires a dedicated electrical connection of 208-230V/60Hz/30Amps and comes with 1 cord but no plug. It is also available by special request in 50 Hz for countries outside the USA.  This unit must be hard wired by a qualified electrician.  Installation costs are the sole responsibility of the customer and are not included in this offer. Please consult the Specification Sheet for further installation information.
Overall Dimensions:
Width: 21 1/4″
Depth: 27 1/2″
Height: 34.25″
Certifications: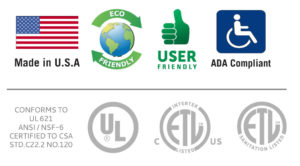 1,000 Servings Bundle:
This bundle includes one (1) Aurel CS162 soft-serve machine, three (3) cases of Nanci's frozen yogurt base mix powder (1-Chocolate, 1-Vanilla, 1-Mixed Case), one (1) case of FroCup 6oz variety pack swirl pattern cups and one (1) case of heavy duty variety pack spoons.  This is enough product for at least 1000 servings (based on serving size of 5 oz).
Payment Terms and Lead Time:
Order is confirmed when payment is received.  Contact us at 1-800-788-0808 for volume or cash discounts. Third party financing available.  Depending on the quantity of machines ordered, lead time once payment is received may be between 8 weeks.